Study Results IUD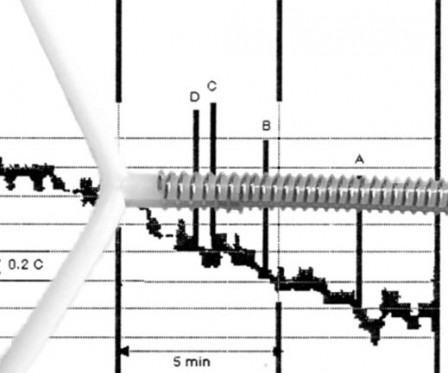 Placing procedure in time: from start (A) till end (D). Temperature raising.
Veen PHE van der. Viscero-cutaneous reflexes in relation to abdominal and pelvic pain. A study from 1982 in females with IUD insertions. Thermography international. 2013;23(3): 87-92 Available at:
http:// www.uhlen.at/thermology-international/index.php


SUMMARY OBJECTIVES:
AIM of the STUDY
The aim of this study was to establish whether there is a relationship between a specific area of the abdominal wall and the uterus as the accompanying organ. The null hypothesis in this study was: the uterus has no specific area of skin which relates to viscero- cutaneous reactivity. The study had to able to take place in a G.P.'s practice, and had to comply with strict medical ethics requirements (a medical ethics review board did not exist at that time), particularly the study must not constitute any risk or cause any discomfort to the participants.
STUDY DESIGN:
The target group consisted of 31 healthy women between 20 and 45 years of age who wanted an IUD inserted or replaced. The study took place in a G.P.'s practice where IUDs had already been inserted over a period of many years.
INTERVENTION:
The IUD-insertion procedure was not changed during the study. After oral consent had been obtained from the patient, infrared thermographic images were recorded of the the abdominal wall immediately before and after IUD insertion.
STATISTICS: The average temperatures of four areas were measured and analysed in 1982 and 2012 with the Wilcoxon Signed Rank test.
RESULTS: There is one specific area where the skin temperature changes significantly more than elsewhere (p<0.001). This area is the same area as the one in which temperature changes have been measured in a study with pregnant women.
CONCLUSIONS: The null hypothesis must be rejected. This study shows the potential of mapping 'referred zones' with infrared thermography. The findings also question abdominal wall pain as an independent disease entity. Changes of inner organs should be considered as cause of abdominal wall pain.
Published on 30/10/2016 by Henk