CASE-2015
Postoperative CRPS generation: a hypothesis.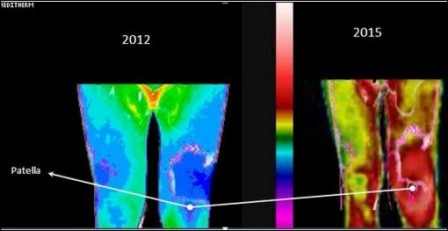 Infrared image with pain after operation. on the left side.
Prepublishing phase
Postoperative CRPS generation: a hypothesis
Based on a longitudinally followed post-operative hematoma, treated with pentoxifylline, measured with infrared thermography
Abstract A single-case experimental approach was implemented to treat postoperative pain complicated by bleeding after a total hip replacement. Pentoxifylline replaced the initial medication and infrared thermography data were gathered to monitor changes of the autonomous regulation function using the healthy leg as reference. With very high VAS score after surgery, the standard medication was discontinued and replaced with 400 mg of pentoxifylline (PTX) three times daily. The VAS score dropped to 1 within one day, and remained under 4. Infrared thermography measured both legs for 47 days. The maximum, minimum, and mean temperatures were recorded. Infrared images might clarify the pain and its disappearance. Noticeable similarities were found between all subsequent measurement values during rest, evening, and post-activity daytime. The similarity in values cannot be attributed to identical images of the legs noting that the locations of maximum and minimum temperatures differed daily. It can be concluded that PTX eliminated an encapsulation of an inflammation process, and as a result, possibly prevented the potential of CRPS developing. In addition, pentoxifylline can possibly cause a change of sensitivity in a segment of the spinal cord, whereby the left and right sides synchronously mirror each other and the higher centres may also be involved. Such a process of synchronisation can play a role in the transition of an active Complex Regional Pain Syndrome process to the heterolateral side, even though literature does not confirm this.
Keywords Anti-inflammatory, CRPS, NSAIDs, Postoperative pain, Prostaglandins, Infra-red thermography
Go to the full text PDF
Translation by Paulien Copper Medical Translations. Maastricht
Statistics: dr E.Martens Statisticor
2016-March-06 P.H.E. van der Veen.
Published on 28/10/2016 by Henk